Treasured Lives is South Dakota's one-of-a-kind survivor led 501c3 nonprofit anti-trafficking advocacy organization. Our mission is to provide avenues of healing, safety, and hope for those exploited by sex trafficking. Treasured Lives survivor speakers have helped countless people increase their understanding, paving the way towards both personal and community advances and healing. Our advocates and client navigators are the best! They provide a safe, professional, and loving environment for sex trafficking survivors.
Kelly Patterson is a survivor of Commercial Sexual Exploitation/sex trafficking; beginning at the early age of 4 and escaping at age 22. She has worked with survivors of sexual trauma since 1996 through her previous private practice and currently via Treasured Lives. The tenacity to free others helps her push through the most difficult of obstacles, a skill learned through climbing out of sex slavery herself.
While shame and pain kept her quiet for years, Kelly's journey of healing and freedom from sexual exploitation are giving her a loud voice today. Believing that unity is key, she enjoys collaborating with others to wage war against sex slavery.
Having survived the unsurvivable, her skills come forth in maneuvering the difficult arena of very painful subject matter. Kelly believes that facing the truth with peace is possible because of her own experience. The courage it takes to discuss such a controversial subject with large crowds is a gift that she excels in. Her fearless dynamic style has engaged many audiences with her story.
Her artwork and writing skills reflect a passion to reach out to other survivors, lend understanding to their family and friends, and light a fire in others to help in the fight against sex trafficking in all its forms.
From Trafficked to Treasured is her autobiography (click image to the left to order). An accompanying workbook and facilitator manual and titled The Pendulum will be published soon. Her co-authored book, Freedom Cry, will also be published soon.
Kelly Patterson is a highly sought after speaker and trainer who serves as a consultant for a number of anti-trafficking organizations including: The West River Human Trafficking Task Force; South Dakota Network Against Family Violence and Sexual Assault; SD Survivor Task Force; National Institute of Justice – for American Indian and Alaska Native women; FAST Sexual Assault Initiative; USD OVW Advisory Board for Indigenous-led Research on Sex Trafficking among Native Americans in South Dakota; World Without Exploitation.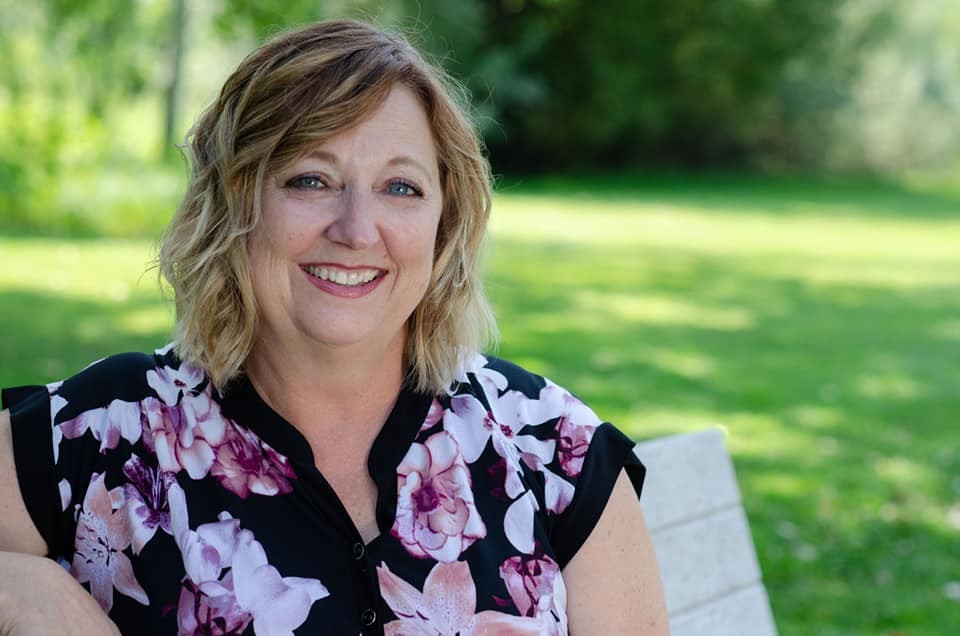 Gina Dvorak speaks from her lived experience as a survivor of familial sex trafficking. Gina's compassion for others is evident in her communication skills. The listener can expect to be personally invited into the world Gina knew as a child. She passionately shares the all too common devastation that sex trafficking has on a family when the trafficker is a family member.
Gina views healing as a life journey and is able to convey the need for trauma-informed care and a good support system.  While many  others failed her, Gina found help and hope in her faith.
As a survivor leader, Gina advocates for peer counseling and support. One of the many way she accomplishes this is through leading support groups and mentoring other survivors. For the past 19 years, Gina has dedicated her time to helping survivors of various forms of trauma heal and grow.
Gina volunteers for several community agencies, is a trainer for the Enough Abuse Program, and also served as Director of a local non-profit agency for over 6 years.
Gina has been married to her husband, Don, for 32 years. She is a mother of two adult children, and grandmother of two amazing grandchildren. She has lived in South Dakota for 29 years, contributing much to the community she lives in.
We collaborate with:
Association for the Recovery of Children
Rapid City Police Department
Pennington County Sheriff's Department
Call to Freedom
Red Skirt Ribbon Society
The South Dakota Network
Children's Home Child Advocacy Center
The South Dakota Survivor Task Force
Pathfinder Center